Ekso Bionics Announces Ekso Indego Therapy Order by SoldierStrong
- SoldierStrong to Donate Device to the Charlie Norwood Department of Veteran Affairs Medical Center in Augusta, GA -
SAN RAFAEL, Calif., April 17, 2023 (GLOBE NEWSWIRE) -- Ekso Bionics (Nasdaq: EKSO) (the "Company"), an industry leader in exoskeleton technology for medical and industrial use, today announced that SoldierStrong, a non-profit organization dedicated to improving Veterans' lives through innovative technology, has purchased an Ekso Indego Therapy device that it will donate to the Spinal Cord Injury Unit at Charlie Norwood VA Medical Center in Augusta, Georgia.
This donation re-establishes Ekso Bionics' partnership with SoldierStrong and will be the 30th robotic exoskeleton that SoldierStrong has donated to a Veteran Affairs medical center in the last ten years of operations. A donation ceremony will occur on April 26th at 11:00 am ET at the VA Augusta HealthCare System downtown campus. The ceremony will include a brief demonstration of the Ekso Indego Therapy exoskeleton.
"We are grateful for this donation that will transform the lives of our veterans in both the home and community settings," said Robert Reeder, Associate Director at the VA Augusta Health Care System. "These clinically proven robotic exoskeleton devices enable our nation's heroes to stand and walk again. Specifically, Ekso Indego Therapy's lightweight, modular design and slim profile compatible with most wheelchairs make it a game changer for many paralyzed or disabled veterans."
Chris Meek, Co-Founder and Chairman of SoldierStrong, said, "We are honored to be joining forces with Ekso Bionics once again to provide revolutionary technologies and innovative advancements to improve the lives of veterans and their families at no cost. The Ekso Indego Therapy will bring much needed rehabilitation support to our valued veterans within their homes enabling them to achieve mobility freedom that they deserve."
Ekso Indego Therapy is a customizable and FDA-cleared lower-limb powered exoskeleton worn around the waist and legs that enables individuals paralyzed from certain spinal cord injuries and stroke to stand and walk and offers clinicians the ability to provide highly individualized gait therapy.
SoldierStrong is a 501(c)(3) charitable organization whose mission is to provide revolutionary technology, innovative advancements and educational opportunities to veterans to better their lives and the lives of their families.
About Ekso Bionics® 
Ekso Bionics® is a leading developer of exoskeleton solutions that amplify human potential by supporting or enhancing strength, endurance and mobility across medical and industrial applications. Founded in 2005, the Company continues to build upon its industry-leading expertise to design some of the most cutting-edge, innovative wearable robots available on the market. Ekso Bionics is the only known exoskeleton company to offer technologies that range from helping those with paralysis to stand up and walk, to enhancing human capabilities on job sites across the globe. The Company is headquartered in the San Francisco Bay Area and is listed on the Nasdaq Capital Market under the symbol "EKSO." For more information, visit: www.eksobionics.com or follow @EksoBionics on Twitter. 
Forward-Looking Statements
Any statements contained in this press release that do not describe historical facts may constitute forward-looking statements. Forward-looking statements may include, without limitation, statements regarding (i) the potential benefits of the Company's products, including the EksoNR, (ii) the performance or effectiveness of the Company's products, including the EksoNR, and (iii) the assumptions underlying or relating to any statement described in clauses (i) and (ii) above. Such forward-looking statements are not meant to predict or guarantee actual results, performance, events or circumstances and may not be realized because they are based upon the Company's current projections, plans, objectives, beliefs, expectations, estimates and assumptions and are subject to a number of risks and uncertainties and other influences, many of which the Company has no control over. Actual results and the timing of certain events and circumstances may differ materially from those described by the forward-looking statements as a result of these risks and uncertainties. Factors that may influence or contribute to the inaccuracy of the forward-looking statements or cause actual results to differ materially from expected or desired results may include, without limitation, the ongoing COVID-19 pandemic and its impact on the Company's financial condition and business, the highly competitive markets in which the Company's products are sold, the new and unproven nature of the market for the Company's products, the long and variable sales cycles for the Company's products, the factors outside the Company's control that affect the international sales of its products, the costs related to and impacts of potential failure of the Company to obtain or maintain protection for the Company's intellectual property rights, the failure of the Company to obtain or maintain regulatory approval to market the Company's medical devices, and risks related to product liability, recall and warranty claims. These and other factors are identified and described in more detail in the Company's filings with the U.S. Securities and Exchange Commission. To learn more about Ekso Bionics please visit the Company's website at www.eksobionics.com or follow @EksoBionics on Twitter. The Company does not undertake to update these forward-looking statements.
Contact: 
David Carey 
212-867-1768 
investors@eksobionics.com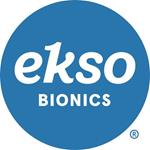 Source: Ekso Bionics Holdings, Inc.

Released April 17, 2023