Ekso Bionics Supports Centers for Medicare & Medicaid Services (CMS) Proposed Rule to Include Personal Exoskeletons within a Medicare Benefit Category
SAN RAFAEL, Calif., Sept. 27, 2023 (GLOBE NEWSWIRE) -- Ekso Bionics Holdings, Inc. (Nasdaq: EKSO) (the "Company"), an industry leader in exoskeleton technology for medical and industrial use, supports the Centers for Medicare & Medicaid Services ("CMS") proposal to include personal exoskeletons in the Medicare benefit category for braces in the updated 2024 Home Health Prospective Payment System Rate.

"This newly proposed rule is highly relevant for our business and individuals with a spinal cord injury and reflects a positive step in facilitating the potential for Medicare coverage of personal exoskeletons, such as our Ekso Indego Personal, for qualified patients as a lump sum reimbursement," said Scott Davis, Chief Executive Officer of Ekso Bionics. "We fully support the codifying of the proposal to further enhance potential access for Medicare beneficiaries and look forward to the CMS regulations expected later this year, including potential reimbursement levels."
The proposed CMS rule would codify the longstanding Medicare definition of brace to provide clarification on the scope of the Medicare Part B benefit for leg, arm, back, and neck braces, and as a result, would classify certain exoskeleton-type devices as braces for Medicare payment purposes. Currently, of the 294,000 individuals with spinal cord injury ("SCI") prevalence1 only 56% of are covered by Medicare or Medicaid five years post injury.2 If approved, the proposed rule could significantly expand the addressable market for Ekso Indego Personal.
Debbie Wagoner, an individual with a SCI, recognized the life changing benefits from using an Ekso Indego Personal. To preserve her quality of life, Ms. Wagoner purchased her own device through a time-intensive and costly self-fundraise, since the Ekso Indego Personal was not covered under Medicare and Medicaid benefits. Under the proposed CMS rule change, more individuals with a SCI who have Medicare and Medicaid benefits, like Ms. Wagoner, could obtain their Ekso Indego Personal device at a considerably lower cost.
"My neurologist thinks my drastically reduced pain and improved quality of life are largely due to the Ekso Indego Personal," said Ms. Wagoner. "I had peace with my SCI from the beginning and knew there was a purpose. I want to show the world how I reacquired independence and instill hope in other individuals with SCI who deserve to get their freedom back too."
Reference
1National Spinal Cord Injury Statistical Center, 2020 SCI Data Sheet, Spinal Cord Injury Facts and Figures at a Glance
2National Spinal Cord Injury Statistical Center SCIMS 2022 Annual Report
About Ekso Bionics® 
Ekso Bionics® is a leading developer of exoskeleton solutions that amplify human potential by supporting or enhancing strength, endurance and mobility across medical and industrial applications. Founded in 2005, the Company continues to build upon its industry-leading expertise to design some of the most cutting-edge, innovative wearable robots available on the market. Ekso Bionics is the only known exoskeleton company to offer technologies that range from helping those with paralysis to stand up and walk, to enhancing human capabilities on job sites across the globe. The Company is headquartered in the San Francisco Bay Area and is listed on the Nasdaq Capital Market under the symbol "EKSO." For more information, visit: www.eksobionics.com or follow @EksoBionics on Twitter. 
Forward Looking Statements
This press release contains "forward-looking statements" within the meaning of Section 27A of the Securities Act of 1933, as amended, and Section 21E of the Securities Exchange Act of 1934, as amended. Any statements contained in this press release that do not describe historical facts may constitute forward-looking statements. Forward-looking statements include, without limitation, statements regarding the terms and impact of the proposed CMS rules and the timing for the final CMS rules. Forward-looking statements can be identified by words such as "expect," "continue," "anticipate," "estimate," "believe," "plan," "projection," "grow," "potential," "future," "can," "develop," "proposition," "position," "expand" or words of similar meaning. Actual results and the timing of certain events and circumstances may differ materially from those described by the forward-looking statements as a result of risks and uncertainties. Factors that may influence or contribute to the inaccuracy of the forward-looking statements or cause actual results to differ materially from expected or desired results may include, without limitation, the final CMS rules being different that the proposed rules and the CMS rules not being finalized. These and other factors are identified and described in more detail in the Company's public filings with the Securities and Exchange Commission ("SEC"). You should carefully read the Cautionary Note Regarding Forward-Looking Statements and the factors described in the "Risk Factors" section of the Company's periodic reports filed with the Securities and Exchange Commission to better understand the risks and uncertainties inherent in the Company. The Company does not undertake to update these forward-looking statements, except as required by law.
Contact: 
David Carey 
212-867-1768 
investors@eksobionics.com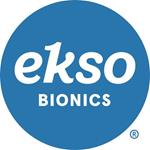 Source: Ekso Bionics Holdings, Inc.

Released September 27, 2023