Ekso Bionics to Participate at Centers for Medicare & Medicaid Services (CMS) Second Biannual 2023 Healthcare Common Procedure Coding System (HCPCS) Public Meeting on Wednesday, November 29
SAN RAFAEL, Calif., Nov. 16, 2023 (GLOBE NEWSWIRE) -- Ekso Bionics Holdings, Inc. (Nasdaq: EKSO) (the "Company"), an industry leader in exoskeleton technology for medical and industrial use, today announced that the Company will participate at the Centers for Medicare & Medicaid Services' ("CMS") Healthcare Common Procedure Coding System ("HCPCS") public meeting on November 29, 2023, to discuss appropriate Medicare payment for the Ekso Indego Personal.

"We appreciate CMS for providing Ekso with this opportunity to highlight the urgent need of the Ekso Indego Personal for thousands of individuals with a spinal cord injury ("SCI")," said Scott Davis, Chief Executive Officer of Ekso Bionics. "The Home Health Prospective Payment System Rule, finalized earlier this month, has significantly increased interest in our personal, home and community use exoskeleton. With CMS's proposed reimbursement level of $94,617 for devices fitting within the existing reimbursement code, certain SCI individuals with Medicare coverage will have access to our life-changing technology. We look forward to this meeting and the potential positive health impacts that reimbursement could have for the SCI community."
The Company has submitted a coding verification request to confirm that reimbursement claims for Ekso Indego Personal should be submitted with HCPSC Level II Code K1007, defined as "Bilateral hip, knee, ankle, foot device, powered, includes pelvic component, single or double upright(s), knee joints any type, with or without ankle joints any type, includes all components and accessories, motors, microprocessors, sensors." A determination is expected in the coming weeks.
This HCPCS meeting follows the CMS' final rule published on November 1, 2023, where it codified "the longstanding Medicare definition of brace to provide clarification on the scope of the Medicare Part B benefit for leg, arm, back, and neck braces and, as a result, classifies certain exoskeleton-type devices as braces for Medicare payment purposes." This rule will go into effect on January 1, 2024; any national payment amount established as a result of the November 29 meeting will be effective April 1, 2024.
Ekso Indego Personal is a modular, lightweight and easily portable exoskeleton that is safe for use in most home and community environments. The device contains an advanced gait mode where the individual can reach faster walking speeds, granting them a new level of independence.
About Ekso Bionics® 
Ekso Bionics® is a leading developer of exoskeleton solutions that amplify human potential by supporting or enhancing strength, endurance and mobility across medical and industrial applications. Founded in 2005, the Company continues to build upon its industry-leading expertise to design some of the most cutting-edge, innovative wearable robots available on the market. Ekso Bionics is the only known exoskeleton company to offer technologies that range from helping those with paralysis to stand up and walk, to enhancing human capabilities on job sites across the globe. The Company is headquartered in the San Francisco Bay Area and is listed on the Nasdaq Capital Market under the symbol "EKSO." For more information, visit: www.eksobionics.com or follow @EksoBionics on X. 
Forward Looking Statements
This press release contains "forward-looking statements" within the meaning of Section 27A of the Securities Act of 1933, as amended, and Section 21E of the Securities Exchange Act of 1934, as amended. Any statements contained in this press release that do not describe historical facts may constitute forward-looking statements. Forward-looking statements include, without limitation, the possibility of the Company's products becoming eligible for reimbursement under Medicare following adoption of the CMS rule changes and the corresponding increase to the Company's addressable market. Forward-looking statements can be identified by words such as "expect," "continue," "anticipate," "estimate," "believe," "plan," "projection," "grow," "potential," "future," "can," "develop," "proposition," "position," "expand," "may" or words of similar meaning. Actual results and the timing of certain events and circumstances may differ materially from those described by the forward-looking statements as a result of risks and uncertainties. Factors that may influence or contribute to the inaccuracy of the forward-looking statements or cause actual results to differ materially from expected or desired results may include, without limitation, Ekso Indego Personal not meeting the definition in the 2024 Home Health Rule and CMS not accepting the Company's pending application to formalize the applicability, a delay in the adoption of the new CMS rules, and less demand than expected from patients even at a reduced purchase price. These and other factors are identified and described in more detail in the Company's public filings with the Securities and Exchange Commission ("SEC"). You should carefully read the Cautionary Note Regarding Forward-Looking Statements and the factors described in the "Risk Factors" section of the Company's periodic reports filed with the Securities and Exchange Commission to better understand the risks and uncertainties inherent in the Company. The Company does not undertake to update these forward-looking statements, except as required by law.
Contact: 
David Carey 
212-867-1768 
investors@eksobionics.com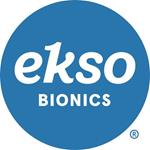 Source: Ekso Bionics Holdings, Inc.

Released November 16, 2023